This past week we hosted our final pre-election PAC Luncheon. We had nearly 100 people in attendance to hear from a number of guest speakers, candidates, and much more…a huge success by any measure!
El Cajon, CA Mayor Bill Wells (pictured above) was the afternoon's featured speaker discussing standing up for what's right and the psychology of totalitarianism.
Craig Huey, nationally recognized author, speaker, and political/economics expert was a special guest speaker for the event. He recently authored The Christian Voter and a California voter guide that can be found at craighuey.com.
Save America Now PAC supported candidate Stan Caplan (CA-51 House candidate) also shared as he seeks to do his part to win a key race to flip control of congress.
We were also joined by:
Lynn Vincent, Executive Editor for WORLD Magazine & #1 New York Times best-selling author
Terry Wild (left), creator of Christian News Magazine distributing 30,000+ copies.
We also had the opportunity to hear from a number of different candidates throughout the afternoon.
Pictured above (from left to right) are:
Mark Meuser (US Senate, CA)
Dane White (Mayoral Candidate, Escondido, CA)
Brian Jones (CA State Senate, District 40)
Laurie Davies (CA State Assemblywoman, District 73)
Candidates featured also included:
Melanie Burkholder (Calrsbad, CA City Council)
Tony Orlando (La Mesa, CA City Council)
Becca Williams (San Diego Unified Schoolboard, District C)
Stan Caplan (US House, CA-51)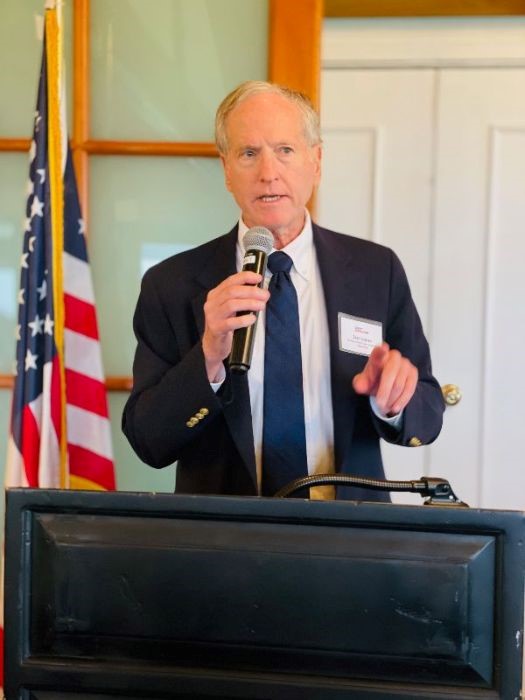 A special thanks to all the candidates, speakers, staff, and volunteers that have gone into making these luncheons such a success throughout this year. We couldn't have asked for a better event!
The camaraderie, insights, and relationships that have been shared & forged in these meetings will surely continue to bear fruit during these trying times in which we find ourselves. However, with the support of like-minded, action-oriented people like these and so many others, there is hope for our country moving forward — both in this November's election and for many, many years to come.